Meet Dr. Peter Martinez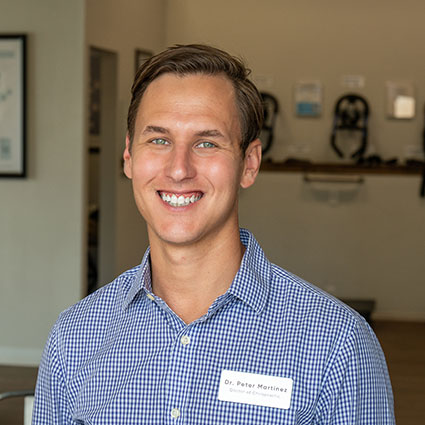 Doctor of Chiropractic
Dr. Peter Martinez came from a long line of medical professionals. With their strong professional backgrounds, they believed they understood what it took to be healthy until family members were faced with life-altering diagnoses. It was when they learned about the power of chiropractic that the whole family experienced transformative improvements in their health. The key was pinpointing the underlying cause so that the body could heal itself naturally.
Holistic Chiropractic Care
In the Austin area, Dr. Martinez is a familiar face and voice. He's a co-host on the MaxLife Austin radio show and Austin's health and wellness coach. He's passionate about sharing his knowledge and experience to help others optimum health through holistic chiropractic care. Some of the ways he shares this message are by providing corporate wellness workshops for businesses in the area and hosting monthly health and wellness seminars.
Dr. Martinez is dedicated to the field and demonstrates it by staying updated on what's new in the field of preventative healthcare, particularly current clinical research. For Dr. Martinez, the core essentials are a way of life that can lead to optimum health, and he strives to empower his patients with this information.
Before becoming a chiropractor, Dr. Martinez worked as a paramedic and in pediatric primary care. He also worked teaching pre-hospital emergency medicine to EMTs and paramedics. He attended Appalachian State University and obtained his Bachelor of Science degree in Bio-Psychology. He obtained his Doctorate in Chiropractic from Palmer College of Chiropractic. His commitment to serving others is also demonstrated in healthcare relief trips to Haiti and to his family-run clinic in Mexico.
EXPLORE OUR SERVICES


Dr. Peter Martinez | (512) 768-2030