Meet Dr. Sean Forbes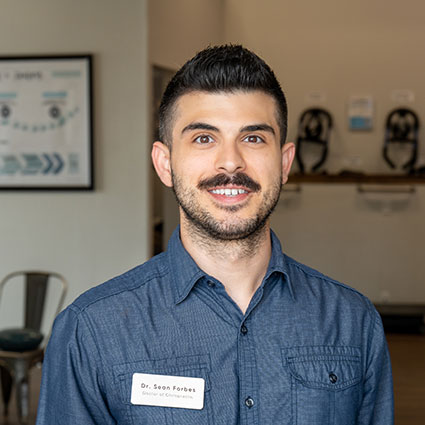 Dr. Sean Forbes was born in San Diego, CA, and moved to Austin, TX soon after. He grew up playing soccer, and after graduating high school, joined the United States Army, where he served as a chaplain's assistant and combat engineer. After serving honorably for six years, including a tour of duty in Afghanistan, he ended his service with the rank of Sergeant.
Focusing on Career
Dr. Sean earned his Bachelor's degree in Exercise Sport Science, with a focus on clinical populations, from Texas State University in San Marcos, TX. After finishing his undergraduate education, he earned his Doctor of Chiropractic from Parker University in Dallas, TX.
A Heart for the Lone Star State
Dr. Sean loves central Texas and anything South Austin. He enjoys live music, spending time outdoors, and being on the Guadalupe River with his dog Tucker. He's always ready for camping, fishing, or hiking with friends. Dr. Sean has dedicated himself to a life of service and finds great reward in improving the quality of life of others through the power of chiropractic.
EXPLORE OUR SERVICES

Improve Your Health
Contact our practice to schedule a visit and start improving your life. Call us today!
CONTACT US

Dr. Sean Forbes | (512) 768-2030