Pediatric Chiropractic in South Austin
Just like adults, children face many different stresses daily. Finding a way to cope, while continuing to grow and thrive, requires a healthy nervous system.
Even though our bodies are designed to be self-healing, self-regulating, and resilient, it can sometimes be difficult, especially for children, to deal with these issues. At River City Wellness, our mission is to help kids achieve their highest levels of health possible through safe, gentle, neurologically focused chiropractic care.
NEW PATIENTS

Continuing Health Struggles
Currently, over 40% of children have a chronic health condition, such as autism, ADHD, asthma, or epilepsy. The path to those chronic conditions begins as a series of acute, early childhood illnesses that traditional medicine cannot manage.
Parents whose children struggle with things like colic, constipation, recurrent ear infections, allergies, sensory issues, developmental delays, and other "everyday" illnesses are often told, "Don't worry, they'll grow out of it." Well, that's simply not true. Without proper help, far too many kids today "grow into" chronic health challenges, and suffer and struggle in ways that are simply not fair.
Our unique specialty and expertise in pediatric chiropractic care comes from three main areas—Need, Passion, and Science. With our caring team of professionals, we're equipped to solve the root issues contributing to neurological and behavioral issues in your children. We know that kids are truly meant to be healthy, not sick.
Our Scientific Approach
With a one-on-one approach based on a "test, don't guess" approach, we address exactly what you and your child are experiencing at a foundational level. Identifying the underlying cause of your child's health issues is the first step in creating a life of wellness for them.
Using computerized nervous system scans, we assess the condition and function of your child's nervous system, and identify areas of subluxation (misalignment) that are contributing to their dysfunction. These state-of-the-art scans are safe, completely non-invasive, and painless. They give us measurable data to design an effective care plan for your child, and allow us to periodically re-evaluate and monitor their nervous system function.
How We Help
Our chiropractors use gentle, focused adjustments to relieve pressure on the nerves, allowing the brain to better communicate with the body and restore the ability to heal and function as it was designed to. We may use hands-on or instrument-assisted adjustments, depending on your child's specific situation.
All care in our office is unique to the individual, and delivered with compassion and expertise. No two plans are the same, and we may change the elements of care from one visit to the next. We tailor your session to meet the needs of that particular day, always moving toward nervous system balance and integrity.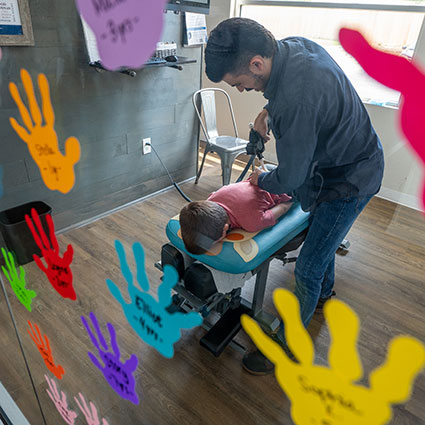 Our Daily Wins
Every day in South Austin, we help kids who are chronically sick, struggling, and loaded up with medications and therapies. With the right diagnosis and some intentional care, we help children transform their lives, reach their milestones, and experience optimal levels of health and happiness.
Seeing infants and kids of all ages restored to the vibrant life they were meant to live is what motivates us to keep going. Regardless of the challenges or roadblocks to long-term health we may encounter, our team will stick with you, continue to defy the odds, and get your family back to complete health and wellness now and for the future.
Schedule a Visit Today
Get started on a life-changing journey; contact us now to schedule your first appointment.
CONTACT US

Pediatric Chiropractic South Austin, Austin TX | (512) 768-2030